content

Wanna ride this road with me? More than 100 kms of non-straight tarmac. And there are many more!
If you want to enjoy one of our tours, you have to be our guest.
NEW! On request we offer guided motorcycle tours with a female guide exclusively for women.
Guided tours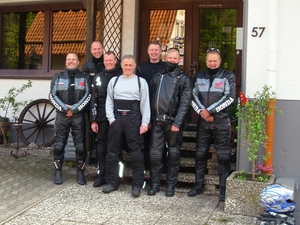 We take people like you ...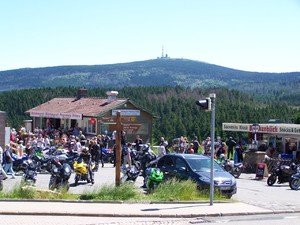 ... to places like this.
We're famous for them!
There's 1000's of kms of brilliant roads in the Harz and surrounding regions and this can seem daunting to 1st time visitors.
Why bother spending hours looking at maps by the side of the road or, even worse, arguing with your mates about whose GPS is right when you can join us for fantastic tours of the Harz, Weserbergland & Thüringen regions!
You don't have to worry about getting lost, finding the best roads, cities, architecture and the best cafés. We know the roads here like the back of our hands. We lead, you follow and you have fun!
Even with the best "Motorradḱarte", you'll just end up wandering about aimlessly wondering whether you're going in the right direction and also wondering what you're going to find when you get there.
Our ride-outs are tailored to suit all abilities, ages and styles of bike. You can ride as fast or as slowly as you want. We've never lost anybody and we all end up in the same place.
A day's tour is about 250 kms and a healthy mix of driving and sightseeing.
We've taken 1000's of riders out over the years and they always come back smiling and full of praise. They admit, they just couldn't have covered the same distance, visited the same places and found some of the best biking roads in mid Germany by themselves.
It doesn't matter whether the group is small or large, customs, tourers, sportsbikes, scooters.
A guided ride-out works. We've proved it time and time again!
Let us know when you book, what you'd like to do, where you'd like to go and when you'd like to do it.
If it's your first time here, let us do all the work. I'll take you on the tour of a lifetime!
Even if you you're one of the many returnees to the "Harmonie", there's always new routes and new places to visit at the end of one of our famous guided tours.
Sports bike riders and track-day freaks. We are only 40 minutes ride from Oschersleben!