content
Ride the "Harzbergring"
What would you choose?
"Nürburgring"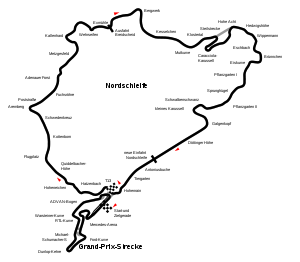 length: 25.947 kms / 16.123 mi
turns: 170
cost: 24 EUR p. lap
"Harzbergring"

length: 323 kms / 200 mi
turns: uncountable
cost: free
Why race the Nürburgring for nearly 25 EUR a lap, when you can ride the Harz for free?
We've heard that a lot from people coming back from the Nürburgring, stopping by at our place on their way home: "Why did we go to the Nürburgring and didn't come here?"
Sports bike riders - fed up with doing the same old track day, afraid of those bloody cameras on the A12 drag in to London. Munich, Antwerp, Copenhagen, Amsterdam - it's all the same!

Millions of other people trying to use the same piece of tarmac you want to ride. Police looking to pull you on a whim? - Thought so!

We're fed up with people banging on about "The Ring". Right, what you're looking at is my version of that "little track". There's just no comparison! This is the real thing!

Miles of open roads, sweeping corners, hairpins, straights, biker-meets, cafes, mountains! And all for nothing!

For the cost of a tank of fuel - NO tolls - NO silly women in Transits - buses - Porsches - trucks (OK there may be a few, after all this is a public road) you can enjoy thousands of bends, brilliant scenery, great company and NO CHARGE!

I'm happy to show you round for the price of a cake and coffee!

Small print: Biker Hotel Harz does not condone racing on the road (much) and you are responsible for enjoying yourself :-)

Go on ... break the mold!

Do something different!
... just a little more info
This is the elevation profile of the Harzbergring. You can see, that this roller coaster ride takes you from around 400 m above sea level in Bad Grund up to nearly 830 m and down to less than 140 m. And all this combined with more twisties than a box of bloomin snakes.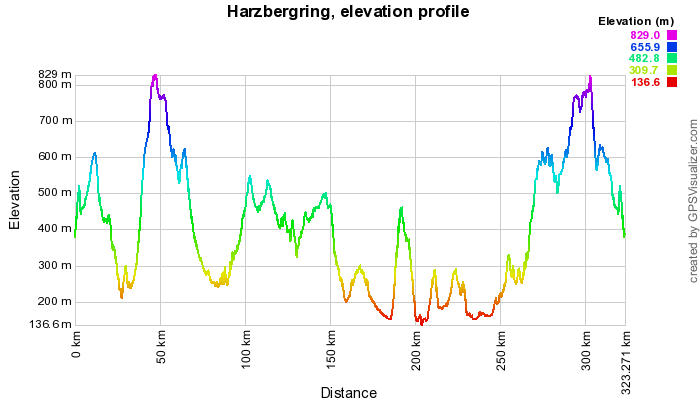 And here comes a big map of my Harzbergring! At the top left corner ist the starting point at our hotel in Bad Grund.