content
About our biker hotel
Phone number for bookings:
+49-175-3611261 
GPS coordinates:
Latitude: N 51 48.430
Longitude: E 10 15.121
FAQ, frequently asked questions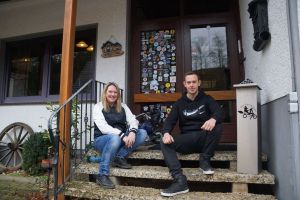 The Hotel Harmonie is our home and also home to hundreds of European bikers each year. The house is run by Peter and Corinna since 2013. It was always a dream for them. Peter is a biker for more than 35 years.
We are not the Hilton! We run a very friendly, homely B&B for bikers and you will not find better hospitality anywhere!
It doesn't matter where you come from, what you ride, how long you've been riding, what your interests are and what language you speak.
Bikers keep coming back to us because we really do know how look after them! 
If you're considering your first trip abroad, the Harz is ideal and here's why:
Fantastic roads!
Friendly people!
Unbelievable hospitality!
Incredible food!
No bloody caravans! (unlike the Mosel and Black Forest)
Seven World Heritage Centers!
Brilliant architecture!
Completely unspoilt!
No crime!
Only six speed cameras in the mountains and they all face forward!
Famous bike meets!
Europe's longest continuous-use narrow gauge steam railway network!
A VERY interesting WW2 history including V2 rockets (Dora Mittelbau)
Beautiful scenery!
Guided tours!
... did I mention cake?
So there you have it. Come and stay with us and see what you've been missing!