content
Phone number for bookings:
+49-175-3611261 
Free WiFi available.
We have a washing mashine and a tumble dryer available.
Central Germany's premier biker hotel
You're searching for motorbike accommodation in Germany?
Well, meet me - Peter - and my wife Corinna, and bikers from more than half a dozen european countries in our biker hotel in the Harz mountains. The hotel was previously owned by Simon Fuller and his wife Elaine, we took over for the 2013 season.
We are genuine bikers and know how to look after our fellow travellers. We are not a hotel playing at liking bikes and bikers! I have owned several motorcycles I began riding them and there's two in the garage at the moment.
A 'Thank You!' from the UK
Thank you Graham for this great video.
The Harz Mountains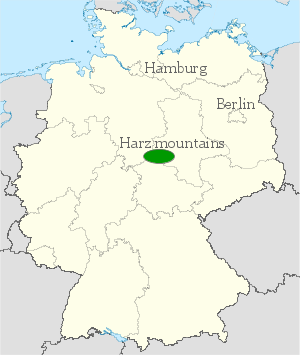 To find us, please click on the map.
More twisties than a box of bloomin snakes!
You could spend your whole life riding round the local roundabouts or doing a trackday, but here you'll meet 1000's of bike riders from all over Europe enjoying genuine Harz hospitality!
Listen up Bikers! Believe me, you would be mad to come here without your bike! Make any excuse you can, not to bring the tin can on wheels, and if you have to, let your wife/husband, girl/boyfriend bring the people carrier with the kids and the dog in it.
If you want to bring your club mates, touring buddies or pillion pals - no problem, we can seat 70 people in our bar!